Bride-to-Be Ultimate Roll™
The Ultimate Drink & Dare Party Dice
It's her last night out as a single lady and there's no better way to create an unforgettable event then with our Bride-to-Be Ultimate Roll™ drink & dare party dice. Take turns rolling the dice to create hilarious dares that will have you and your friends, laughing, drinking and partying all night long.
How to Play: Bride-to-be rolls first, rolling all four dice together. Once rolled, follow the instructions that correspond with the roll of the dice, lightest to darkest.
For example, the GIRL ON RIGHT, will TAKE A SIP, USE A FOREIGN ACCENT, and then SPANK GUYS BUTT. Once the dares have been performed (and witnessed by all) the next player (on the left) will roll the dice and so on….
---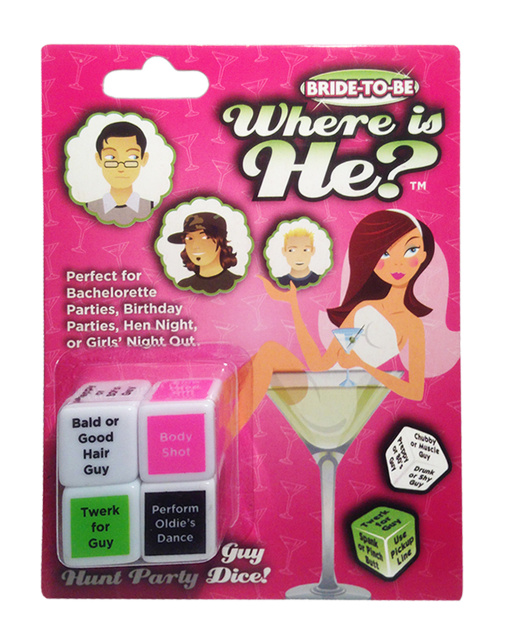 Bride-to-Be Where is He?™
The Ultimate Guy Hunt Party Dice!
Forget about looking for Mr. Right, this dice game is all about looking for Mr. Right now!
From ridiculous to outrageous, Bride-to-Be Where is He?™ will provide countless hours of side-splitting entertainment. Perfect for bachelorette parties, birthday parties, hen night, or girls' night out.
Decide who rolls first, and then roll all four dice together. Once rolled, follow the steps 1 thru 4 below! For example, find the TATTOO GUY, CHUG HIS BEER, PINCH HIS BUTT, and then choose a player from the party group to PERFORM OLDIE'S DANCE.
Once the dares have been performed, the next player will roll the dice and so on….
---
Bride to Be IOU Dare Game
Want to make your Bachelorette party a hit? We dare you not to have fun with this exciting and hilarious Bachelorette party game.
From mild to outrageous, the secret party dares will provide hours of amusing entertainment for everyone.
Turn red with embarrassment as you and your friends flash your undergarments to complete strangers, intentionally pinch a guy's butt but pretend it was an accident, keep a straight face while you hit on guys that you have absolutely no interest in, and get giddy as you consume alcohol in new and inventive ways.
How to Play: The Bachelorette decides how the game will be played. The pull-tabs can either be equally distributed by the Bachelorette at the beginning of the party, giving each partygoer the entire night to complete their dares, or the Bachelorette can takes turns giving each partygoer, including herself, one dare at a time. Another fun alternative is to have the Bachelorette choose a dare card, read it aloud, then assign the dare to a party member of her choosing. Either way, this game will get the party started and have everyone laughing all night long.
Content 55 Pull Tab Cards
EXAMPLES:
Buy a guy a drink and tell him he's cute!
Get a guy to dance naughty for you!
Get two guys to dance with you.
Tell a guy, "you look overdressed, how about removing your underwear?"
---