Ball & Chain Presents the Ultimate in Foreplaying Cards!
---
"Bedroom Truth or Dare"
An irresistibly titillating game for you and your lover!
Want to have a sizzling hot night you'll never forget? With "Bedroom Truth or Dare" you'll not only disclose all your naughty little secrets, you'll also learn all about your lover's kinks, desires and fantasies. Our sexy spin on the classic truth or dare game features 120 enticing truth and dare activities and a whole lot of titillating extras. Do you dare to play?
How to Play: You and your lover take turns picking from the deck and choosing a spicy "Truth" or a naughty "Dare. The player drawing a card must read the truth and dare activity out loud and choose to perform one of the two options on the card. Once the activity is completed the next player chooses a card and so on.
Contents: 1 Instruction Card,60 Playing Cards (with 120 Truth and Dare Activities).
---
SUPER SEX GAME
Unleash Your Sexual Super Powers!
CONTENTS: 1 Instruction Card, 5 Super Sex Hero Cards and 60 Category Cards. The Cards are Comprised of 5 Categories: Magnetic Attraction, Shape Shifting, Domination, Super Senses and Super Endurance).
Embrace your adventurous and playful side with Super Sex card game, the super hero themed sex game. Use your super sex powers to fulfill your ultimate sexual fantasies. Enjoy a heightened sense of arousal and a deeper level of intimacy while pretending to be a super hero on a seductive and sensual pleasure-seeking quest for the ultimate sexual super powers.
Object:The object of Super Sex card game is to customize your own sexual super powers and rise to become the super sex hero! Players must acquire a hand consisting of one card from each of the five super power categories (forming a 5 category card straight) along with one Super Sex Hero card. The first person to assemble their straight becomes a super sex hero and wins the game! The elements, include, (Magnetic Attraction) Foreplay, (Shape Shifting) Role-play, (Domination) Bondage (Super Senses) Touch and Tease and (Super Endurance) Sex Positions. Let your power and strength bring you to sexual fulfillment!
---
Bedroom Strip Blackjack Game - Spencer's (spencersonline.com)
(Strip) Bedroom Blackjack!
What Happens in the Bedroom…Stays in the Bedroom!
Contents: 1 instruction card, 8 wild cards, and 52 cards that included 104 strip and foreplay activities. 100+ Game Possibilities!
The initial object of Strip Bedroom Blackjack is to get you and your lover stripped naked while trying to get 21, (For example Ace and a King or two 10's and an Ace). Once in the buff, you can then take part in the many sex and foreplay activities. Although this game is called Bedroom Blackjack, you can also turn any of your favorite card games into wildly sexy fun. Play Blackjack, Poker, Rummy, War, Fish, Crazy 8 or even Concentration-the possibilities are endless. Anticipation increases with each new hand and pleasure is not just awarded to the winner.
---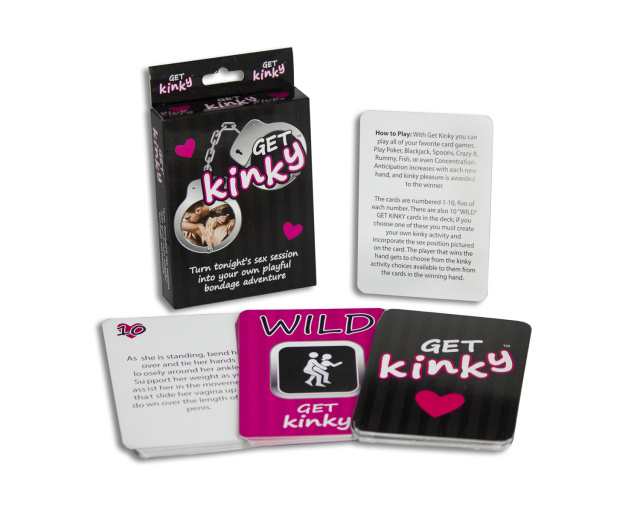 "Get Kinky"
Turn tonight's sex session into your own playful bondage adventure.
100+ Game Possibilities!
Turn any of your favorite card games into wildly kinky fun. Get Kinky is an exciting card game for lovers who want to spice up their sex lives by adding a little experimentation and imagination. Play Poker, Blackjack, Crazy 8, Rummy, Fish, or Concentration with renewed excitement.
Blindfolded, tickled, whipped, paddled, tied-up, or spanked – Get Kinky game will allow you to act out all of your kinky fantasies and forbidden desires.
Contents: 50 Activity Cards, 1 Instruction Card and 10"WILD" GET KINKY Cards.
---
Sex Scenarios
The ultimate Sexual Role-Playing cards!
Embrace your adventurous and playful side as you assume out-of-the-ordinary personas and experiment with a wide range of mischievous sexual activities and scenarios. Sexually speaking, pretending to be something you are not can be extremely pleasurable and exciting for both you and your lover.
Get into character and act out some of your secret fantasies! Use imagination and improvisation to make your characters come to life. Remember to set the scene before game play by having useful props nearby -- such as your favorite sex toys, handcuffs, lubricants, and role-playing costumes.
Contents: 60 Role-play Activity Cards